Funny Cartoons
Welcome to the Funny Cartoon section of the website.
The newest cartoonist to be promoted on my site has their work displayed at the top of the first page with the older ones following after that. However from time to time I do reorder them by bringing a more popular cartoon closer to the front, or if a cartoonist is not updating them as often it could get moved back a page or two so that the more viewed pages remain fresh.
To see more cartoons by any of these cartoonists, click on their cartoon. If you are a cartoonist and want to have your cartoon or comic strip added to www.TheFunnyCartoon.com website, I would love to hear from you so feel free to contact me.
Finland based cartoonist Jani Mäntynen and his Confusing Cartoons brings you daily humour to meet some realities of life. There are not so many differences between people and animals - not here or on Jupiter.
Check out more of his cartoons at Confusing Cartoons.
Steve Allender is a self taught cartoonist, illustrator and fine art landscape painter. He has, in the past, contributed cartoons to 'Punch' as well as writing for 'Artists and Illustrators' magazine. His paintings can be found in various galleries around England. His time is now mainly taken up with recording the daily adventures of the six cartoon cows who live in his head. This has not proved to be easy as they move around a lot and take frequent trips away from home. He has some hopes that eventually some kind person will offer to make them into an animated series for television, thus making him a wealthy man and giving the Cows the chance to live a life dominated by the consumption of cake.
Check out more of Steve's cow cartoons on his Cow Island blog.
Tom Latimer is a 78 year old former elementary school teacher and a perennial wanna-be cartoonist. Tom says a comic strip idea, complete with setting and cast of characters, came to him unbidden 56 years ago. Since then he has shared it with others with some publishing success. He even had an opportunity to have an audience with Charles Schulz, creator of "Peanuts" who said he actually liked Tom's work!
Check out more of his work on his Lost Gulch blog.
Sepia Pidgeon is a different kind of daily web comic. Each page is painted using Chinese ink painting brushes. The humor is equally odd... every page shows several pigeons talking... but they're never really talking to each other. So let's just say that it's funny peculiar and we'll leave it at that.
The creator, Clay Ward, was trained as a sculptor. So perhaps the process of layering ink and ideas on the comics are a bit like sculpture.
Visit Clay's site to see more more of Sepia Pidgeon.
Unable to open RSS Feed http://www.sepiapidgeon.com/atom.xml, exiting
Andreas Kinell is a self-employed computer scientist. He doesn't remember exactly when, but at some point he just decided to draw a cartoon every time one of those thoughts of genius hit him. Hence the name 'Thoughts Of Genius'. His cartoons are organized in series of about 20 single images per theme. Once a series is complete, a new one will be started.
Check out his Thoughts Of Genius website to see each series of cartoons like Extinct Animals, Bad Business Ideas or Science Unleashed.
William Agosto's interest in cartooning began when he was scarcely out of the womb.
His latest work is a cartoon called "Knot Rite". It's title comes from a few sources. People telling him "You're not right" in reference to his weird sense of humor. Or his just trying to elicit a laugh when things are "not right" in the world. It just seemed a natural title.
Get a bi-weekly glimpse of a world "Knot Rite" here. Or jump to his Knot Rite Cartoon site to see more.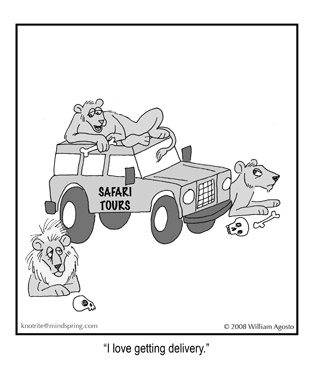 << Start
< Prev
1
2
3
4
5
6
7
Next >
End >>
Results 13 - 18 of 39