Funny Cartoons
Welcome to the Funny Cartoon section of the website.
The newest cartoonist to be promoted on my site has their work displayed at the top of the first page with the older ones following after that. However from time to time I do reorder them by bringing a more popular cartoon closer to the front, or if a cartoonist is not updating them as often it could get moved back a page or two so that the more viewed pages remain fresh.
To see more cartoons by any of these cartoonists, click on their cartoon. If you are a cartoonist and want to have your cartoon or comic strip added to www.TheFunnyCartoon.com website, I would love to hear from you so feel free to contact me.
William Agosto's interest in cartooning began when he was scarcely out of the womb.
His latest work is a cartoon called "Knot Rite". It's title comes from a few sources. People telling him "You're not right" in reference to his weird sense of humor. Or his just trying to elicit a laugh when things are "not right" in the world. It just seemed a natural title.
Get a bi-weekly glimpse of a world "Knot Rite" here. Or jump to his Knot Rite Cartoon site to see more.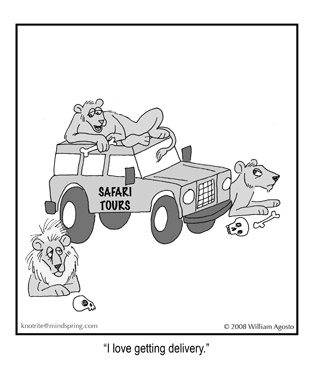 James True is a part-time cartoonist residing in Beech Mountain, NC. His weekly cartoon strip, "true stories" has been seen in a small handful of newspapers throughout the United States.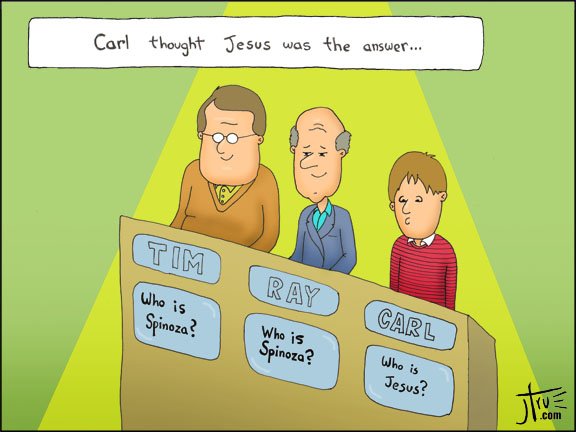 Kevin's Life - Daily Adventures in the Land of Moron. The cartoon follows the daily adventures of Kevin and his exploits in the Land of Moron. It is a daily single panel gag photoon (not sure if that's a real word but it's a mix of photo and cartoon).
Snapshots cartoons by Jason Love are published in newspapers and websites everywhere.
Bol's Eye is a cartoon conceived and produced by artist Shaun Boland. It represents the world as seen through the eyes of the spectacle sporting cartoonist. Shaun draws inspiration from every conceivable source and finds humor in just about any situation. Whether inspired by co-workers, family, friends, sports or current events, Shaun finds a way to make the world a more humorous place.
See more of Shaun Boland's cartoons at Bols Eye Cartoon website.
<< Start
< Prev
1
2
3
4
5
6
7
Next >
End >>
Results 19 - 24 of 39